Melanie Allison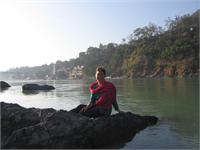 Melanie's journey into yoga began in 2002. She immediately noticed there was more to it than just the physical postures and the "workout" she expected. Drawn initially to the intensity of power styles of yoga, she has since developed a great appreciation for the richness to be found in slowing down, moving mindfully and finding both strength and comfort in stillness. Melanie has found that when we slow down and pay attention to how we move and breathe, we create the space to get to know ourselves and empower our life through our practice. She believes firmly that the more space we take up in our body, the more space we take up in our lives and in our relationships…and the happier we are. Her classes focus on creating a space for the body, mind and spirit to meet through conscious breathing, focused awareness and positive guidance. Since completing her 500 hr teacher training in India Melanie's experience of yoga as a means of personal growth, healing and empowerment has been enhanced. It is her intention to gently thread those insights into her classes so that her students may experience firsthand the power of their own body, mind and spirit.
Melanie Allison instructs the following:
YIN: a class that encourages the muscles to relax and the body to release tension through floor poses that are held for 3-5 minutes. The increased time in each pose allows for mindfulness, and promotes connection between body and breath. The use of props is encouraged to ensure comfort, and makes the class accessible to all levels.