Jo-Ann Oosterman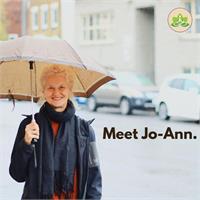 JO-ANN OOSTERMAN first discovered yoga on a camping trip in the mid 90s. Alongside her growing interest in yoga, in 1996 she obtained her BA in Psychology, and spent several years working with people who were marginalized due to poverty, mental illness and addictions. Jo-Ann became a certified Hatha yoga instructor in 2001. Her sincerity and compassion shine through in her yoga classes as she encourages her students to not only explore the postures but to look inward to discover more about themselves. Concerned with the environmental impact of outsourcing and the proliferation of sweatshops, Jo-Ann created her home-based yoga clothing company, YOGO.ca in 2002. Each item is designed and sewn right here in Ottawa. The Upward Dog Centre is proud to support this initiative by carrying Jo-Ann's incredibly comfortable eco-friendly clothing in house.
Jo-Ann Oosterman instructs the following:
HATHA GENTLE. A class designed around a soft flow of postures which are modified with intermittent relaxation which allows the absorption of the benefits of each pose and the class as a whole. This is a wonderful restorative experience, great for those recovering from an injury or under stress. A class for all ages and levels.