Jennifer Lynd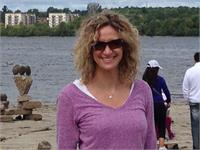 Jennifer Lynd (RYT – 200 hour)
Early in life, while taking pre-professional ballet classes, Jennifer experienced the value of movement, stretching and challenging the body. After more than 15 years of teaching ballet, Jennifer started to explore yoga and Buddhism. Attending silent meditation and yoga retreats allowed Jennifer to connect with her true self and she now personally knows the significant impact that yoga and meditation can have on our peace of mind.
In 2011, Jennifer took the 200-hour Yoga Teacher Training at Upward Dog Yoga Centre, Ottawa. Her passion is offering calm and gentle hatha yoga classes, providing a respite for students to escape the complexity and noise of the outside world and to reconnect with their inner wisdom. Students will leave class more relaxed and grounded; better prepared to accept, both mentally and physically, the ups and downs that life has to offer.
Jennifer Lynd instructs the following:
After a long night's sleep, the body must move gently to allow for a gradual wakeup. Morning Hatha Flow begins by gently moving the body and awakening the breath with pranayama. Postures are practice in a sequence to allow stretching and aligning the body. In this class you will find balance by increasing strength and flexibility while moving mindfully with the breath. A morning practice is the best way to start your day!