Joel Beauchamp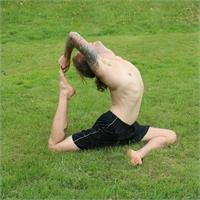 Joel is a yoga teacher committed to the promotion and education of yoga for physical, psychological and spiritual well-being. After 10 years of dedicated personal practice he completed 500 Hour Teacher Training in India to enable him to share his knowledge and passion with others. He has studied extensively the systems of Ashtanga, Vinyasa, Iyengar, Vinyasa Krama and Classical Hatha Yoga. In addition, he has received formal instruction in several types of meditation, as well as the disciplines of Pranayama, Yoga Nidra and Vedic Philosophy. Over the course of his practice he has spent a year in India studying and travelling.
Joel Beauchamp instructs the following:
Smooth flowy class in a warm heated room is excellent choice after a working day spent at your desk. Poses are held for a couple of breaths followed by a smooth transition into the next one. Warm your entire body with this class




Core Flow is a Yoga Flow class targeting muscles supporting our spine. This very effective and fun workout will give you more strength, more endurance, more self confidence.




This is a class that will help you restore your blood circulation without making you tired. Slow flow is a class where you transition from one asana to the next with enough time to get all the benefit of each of them, to stretch your muscles but at the same time there is enough effort to warm you up and to calm your mind. You will be ready to face the challenges of the rest of your day




After a long night's sleep, the body must move gently to allow for a gradual wakeup. Morning Hatha Flow begins by gently moving the body and awakening the breath with pranayama. Postures are practice in a sequence to allow stretching and aligning the body. In this class you will find balance by increasing strength and flexibility while moving mindfully with the breath. A morning practice is the best way to start your day!




This one-hour, energizing flow draws inspiration from the Ashtanga sequence in a setting that caters to all. Emphasizing fun and creativity, both new and experienced Ashtangis are welcome to explore the limitlessness of breath and movement in cultivating strength, growth, balance, and joy in the practice of yoga, both on and off the mat




This is a class that reflects classical roots of yoga - a sequence of asana that is slow paced with focus on alignments, not vinyasa style. Asana are performed to warm up your body and prepare it for the main part - meditation. You will be guided and supported by the instructor during meditation so that your mind follows your will, not the other way around.




Ashtanga is a challenging and athletic style of yoga which utilizes a fixed series of movements and postures that a practitioner gradually learns and refines over many years of practice. In this class students will be introduced to the fundamentals of the practice, with special attention paid to breathing, alignment and focus, along with helpful modifications to make the practice safe and accessible for all body types.




HATHA GENTLE. A class designed around a soft flow of postures which are modified with intermittent relaxation which allows the absorption of the benefits of each pose and the class as a whole. This is a wonderful restorative experience, great for those recovering from an injury or under stress. A class for all ages and levels.




HATHA ALL LEVELS: A Hatha class aimed at helping students achieve proper body alignment while exploring breath techniques in traditional Hatha yoga postures, developing strength, balance, flexibility and relaxation while connecting the mind, body and soul.