Joel Beauchamp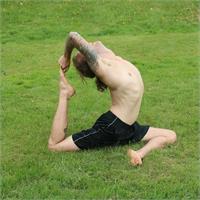 Joel is a yoga teacher committed to the promotion and education of yoga for physical, psychological and spiritual well-being. After 10 years of dedicated personal practice he completed 500 Hour Teacher Training in India to enable him to share his knowledge and passion with others. He has studied extensively the systems of Ashtanga, Vinyasa, Iyengar, Vinyasa Krama and Classical Hatha Yoga. In addition, he has received formal instruction in several types of meditation, as well as the disciplines of Pranayama, Yoga Nidra and Vedic Philosophy. Over the course of his practice he has spent a year in India studying and travelling.
Joel Beauchamp instructs the following:
This is a class that reflects classical roots of yoga - a sequence of asana that is slow paced with focus on alignments, not vinyasa style. Asana are performed to warm up your body and prepare it for the main part - meditation. You will be guided and supported by the instructor during meditation so that your mind follows your will, not the other way around.




BEGINNER'S YOGA: This class is designed specifically for those who are curious about yoga, those who need a slower pace, and those who would like to deepen their understanding of poses before taking the plunge into an All-levels class! This class is very informal and lighthearted, and students are strongly encouraged to asked questions during their practice! A typical class will focus on specific categories of poses, such as hip openers or forward folds, and will explore its most common warm up and apex poses. The class, however, will also be free to explore the needs and interest of students on any given night. By the end of the class you will have learned the names of the most common poses and learned the variation of the pose that is safest for you!




After a long night's sleep, the body must move gently to allow for a gradual wakeup. Morning Hatha Flow begins by gently moving the body and awakening the breath with pranayama. Postures are practice in a sequence to allow stretching and aligning the body. In this class you will find balance by increasing strength and flexibility while moving mindfully with the breath. A morning practice is the best way to start your day!




YOGA FOR STRESS REDUCTION: An all levels class which combines a variety of calming yoga postures (using props for support to create a greater state of relaxation) along with breathing exercises and meditation. A great way to relax and reduce stress!