Jennifer Pakuts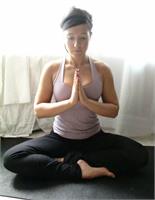 Yoga is my prayer in motion. Every time I step on the mat is a new chance to learn something about myself and to quietly observe my inner strength. Through practice I have acquired tools which have helped me live a more balanced, healthy and fulfilled life. I have overcome shame/self doubt after recovering from addiction and believe yoga has changed my brain chemistry from "scattered and shattered" to "whole and at peace". I am here to help guide you on your own journey of self discovery through the power of movement and breathe. See you on the mat!
Jennifer Pakuts instructs the following:
Core Flow is a Yoga Flow class targeting muscles supporting our spine. This very effective and fun workout will give you more strength, more endurance, more self confidence.