Jessica Robillard, RMT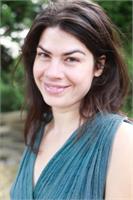 Jessica is an RMT who takes a whole body therapeutic approach to her practice. She works
with her clients by developing and manage a treatment plan that is tailored to each individual's
needs. She is always working towards finding the source of the problem drawing from her vast
and diverse skill set. She incorporates techniques such as myofascial release, joint
mobilizations, deep tissue, soft tissue release as well as lymphatic drainage, cranial sacral
therapy, visceral manipulation somatic breath therapy and yoga.
Jessica trained at The Vancouver College of Massage Therapy in Vancouver BC and has been
practicing since 2011. She also has her 200hr RYT certification for instructing yoga. She Now
lives in the Gatineau hills close to her family. Jessica is a very adventurous, creative and active
person. She feels passionate about the healing arts and helping people.
Jessica Robillard, RMT instructs the following: