Dariya Quenneville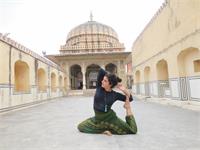 My love of yoga sparked in my teenage years when I was introduced to asana (postures) through a dance background. After several years of dabbling, I began to practice consistently while completing my undergraduate degree in Environmental Science as a means to develop mind-body awareness for optimal wellness. Hiking over 4,000 km on the Pacific Crest Trail after graduating, I began to understand the benefits of breath and meditation to help overcome an array of physical and mental discomforts. Quickly realizing that I wanted to deepen my knowledge and understanding of the ancient practice, I traveled in India, where I completed my 200 hour hatha vinyasa yoga teacher training and attended a 10 day Buddhist meditation course. I enjoy practicing and teaching yoga that is gracefully energetic, balanced, accessible, and most importantly, makes you smile. Passionate about all aspects of yoga, I always guide a practice which can be extended off the mat and into your daily life.
Dariya Quenneville instructs the following:
HATHA ALL LEVELS: A Hatha class in a heated room aimed at helping students achieve proper body alignment while exploring breath techniques in traditional Hatha yoga postures, developing strength, balance, flexibility and relaxation while connecting the mind, body and soul.