Ashley Parker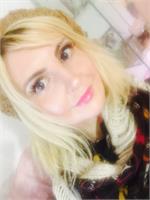 Ashley loves to play with the balance between peace and power, and strength and softness in her classes, empowering both inner and outer evolution. Ashley completed her first teachers training with Megan Campbell and Tiffani Harris here in Ottawa, and since has completed Advanced Vinyasa teachers training with Megan Campbell, Anatomy for Yoga with Jenna Switzer, Yoga Shred Teachers Training with Sadie Nardini, Thai Massage Training with Devin Johnstone, and Love Your Brain Yoga Teacher training with Kyla Pearce. Ashley is currently studying biomechanics and functional movement science under Jenni Rawlings. Ashley also holds a B.A. in Psychology and is a certified Human Resources professional and yoga alliance teacher. Ashley is a leader in the Ottawa community, committed to love (ahimsa) , life-long learning and providing a challenging but nourishing experience for her students.
Ashley Parker instructs the following:
"Yoga is like music. The rhythm of the body, the melody of the mind, and the harmony of the soul create the symphony of life." — B.K.S. Iyengar
Power beats is a challenging but empowering power flow yoga class to western, fun, familiar, music, designed to energize your mind and body, connect you to the rhythm of your soul, and strengthen your whole being from the inside out.




Vinyasa Flow is a creative, balanced and energetic sequence of postures linked with breath that warm, strengthen and empower the Body and Mind. This class is designed to help improve flexibility, strength and circulation in the Hips and includes a dynamic blend of standing, balancing and floor poses to help strengthen and lengthen the hips, lower back, glutes and thighs, improving your range of motion and circulation. Modifications and options are provided for postures to make this class accessible to all levels.




Warm Hatha Flow - The flow of the breath matches the flow of the postures in a warm, joyful setting. This energizing sequence celebrates the limitless capacity of the breath to take you to new places as you discover new ways for yoga to affect positive growth in your life. Through self-care and a heavy dose of fun, reconnect to your deepest inhale and your most soothing exhale.