Afnan Khan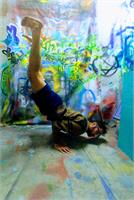 Afnan first discovered yoga in the Summer of 2015 while exploring body-based movement systems, and the following summer took his first training in Yin Yoga, followed by a 200 Hour training at Astanga Yoga Ottawa, and then finishing off the summer of 2016 with a Yoga Philosophy Program with Eoin Finn in Tofino, BC. Since then, he's been running barefoot about the town, exploring animal type movements and spreading the gospel of body awareness in his communities.
Actively involved in the activist community in this city, he has advocated and organized in initiatives around sustainable food systems, reproductive rights, and social equity.
Born in Illinois, raised in Ottawa, and hailing originally from the Hindu Kush mountains, Afnan will awaken your inner animal!
Afnan Khan instructs the following:
Hatha Intermediate




HATHA INTERMEDIATE. The base of all yoga classes is a classical blend of postures, breathing techniques, and meditation sequenced intelligently with the goal of inspiring a healthy body and uplifting the mind. Asanas (postures) stretch, align, help detoxify the body, and promote balance, flexibility, and concentration. Learning to move with the breath releases a wealth of vital energy, cultivates a clear, peaceful mind, and brings us in touch with our spirit. Classes incorporate mantra, pranayama, yogic techniques and meditation.