Rupinder Kaur Khalsa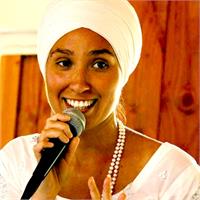 Business Administrator and Kundalini Yoga Teacher certified by KRI since 2010 at Narayan Yoga School in Santiago, Chile. She is currently in the process of becoming a Lead Trainer at the KRI Academy and has a specialization in Yoga for Women, Mental Health, Sexual Abuse and Resilience.
She is the founder of the FATEH program for Female Victims of Domestic Violence and Sexual Abuse, the SHAKTI program for Yoga and Conscious Sexuality, the PREM program for Yoga for Couples, the INVINCIBLE SOUL program for Yoga for Fears and the CONSCIOUSNESS & COMMUNICATION program for Yoga and Harmonious Communication. She has been teaching through South America and she moved to Ottawa to keep teaching the important tools of Kundalini Yoga to create a space for self knowledge, healing and conscious lifestyle.
Rupinder Kaur Khalsa instructs the following:
Through posture and alignment we can self-diagnose our body, emotions and mind. Every posture is an opportunity to connect with our devotion, acceptance and self-love, and every breath made with the correct technique, provides us the strength we need to face our lives with courage and commitment with our selves.
We can use our bodies as a vehicle of the infinite flow and personal power, transforming our lives.