Natasha Moine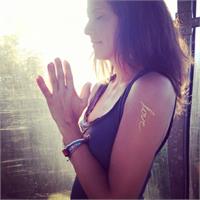 Natasha Moine, RYT 200HR
Natasha Moine has been a student of yoga, nutrition and energy since 2004 when she fell in love with the possibility of feeling great in mind, body and soul. Natasha's passion and purpose is to guide students to reconnect with their bodies through movement and breath.
Having recently fulfilled a lifelong dream of becoming a yoga teacher, Natasha is thrilled to now be able to guide you through your next practice at Upward Dog Yoga Studio. Experience a powerful Vinyasa class with Natasha and she will share with you this ancient healing art and all it's powerful benefits. Yoga is 'food for the soul' and will not only strengthen your body and improve flexibility it will open your heart and leave you craving more.
Natasha is also a photographic artist, having previously owned a small business in Ottawa for over 10 years. She still enjoys taking beautiful photos but mostly while travelling or spending time with her 13 year old daughter. Some of Natasha's travel photography can be found at the studio.
Namaste.
Natasha Moine instructs the following:
Power Vinyasa Flow Yoga is a powerful, energetic form of yoga where students fluidly move from one pose to the next while connecting their breathing to their movements. This class is offered in a warm heated room.




A very effective workout combining elements of ballet with pilates, sports conditioning and flexibility training. It will tone your muscles fast, shape your body and improve your range of motions




HATHA INTERMEDIATE. The base of all yoga classes is a classical blend of postures, breathing techniques, and meditation sequenced intelligently with the goal of inspiring a healthy body and uplifting the mind. Asanas (postures) stretch, align, help detoxify the body, and promote balance, flexibility, and concentration. Learning to move with the breath releases a wealth of vital energy, cultivates a clear, peaceful mind, and brings us in touch with our spirit. Classes incorporate mantra, pranayama, yogic techniques and meditation.




Join Natasha Moine for a two hour master class to awaken your creativity chakra. During this two hour vinyasa class you will experience a creative and playful flowing practice where we will move with intention and infuse moments of rest and meditation throughout.
As humans, it is part of our nature to create. We might feel open and creative in some aspects of life, while self-conscious in others. The reason, that we stopped being creative as adults or stopped taking risks creatively, is because along the way, someone told us that we weren't good or that we couldn't do it. In opening our second chakra energy, we learn to take risks and let go of the fear of failure.
Play is a great way to begin this opening. Have you ever watched a child play? Start to play like a child. You have an infinite amount of creative energy within you, let's tap into that creative energy and begin to cultivate that into your everyday life.