Stuart Bell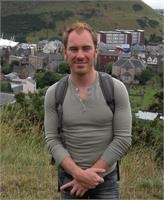 Stuart Bell is a long term Ottawa resident and Massage Therapist. He graduated from the 200 Hour Yoga Teacher Training at Upward Dog Yoga Centre in the spring of 2013, under the knowledgeable teachers Roxanne Joly and Mike Dynie. In the form of Hatha Yoga, Stuart uses his playful and calm approach to establish a soothing effect on the body's nervous system. Stuart has a keen interest in postural function and yoga for any age and body. His method of yoga class planning will be with careful intent to guiding subtle energy leaving the student feeling physically and emotionally open, relaxed and rejuvenated.
Stuart Bell instructs the following:
BEGINNER'S YOGA: This class is designed specifically for those who are curious about yoga, those who need a slower pace, and those who would like to deepen their understanding of poses before taking the plunge into an All-levels class! This class is very informal and lighthearted, and students are strongly encouraged to asked questions during their practice! A typical class will focus on specific categories of poses, such as hip openers or forward folds, and will explore its most common warm up and apex poses. The class, however, will also be free to explore the needs and interest of students on any given night. By the end of the class you will have learned the names of the most common poses and learned the variation of the pose that is safest for you!




Looking for a place to start yoga? Not sure where to go and what to do? Nervous and intimidated? Try taking a 6 week Yoga For Beginners 101. Guided by Upward Dog Yoga Centre's own graduate and long time student Stuart Bell YT, RMT. The space will be inclusive and friendly. We won't let you fall through the cracks. We will teach you what yoga is, different terminology, the postures and answer your questions. Time will be taken to explain the different yoga styles and why yoga can be for anybody and ANY BODY. There will be some basic yoga philosophy, breath work and meditation as well.

Please keep in mind the course is non-transferable and non-refundable




This yoga class consists of long held grounding postures, enabling your body to sink and release into each pose. The instructor, Stuart Bell, RMT will provide the students with ample hands on assists and mini massages to help deepen your practice, body awareness and relaxation.