Emilie Tobin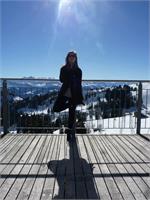 Thirteen years ago, Emilie walked into her first yoga class at the original Upward Dog Yoga located on Mackay Street. She was looking for a new pastime amidst a time of significant change and quickly fell in love with the physical part of yoga. It took a decade of consistent practice for Emilie to accept and embrace that yoga is so much more than the physical body. Yoga has allowed this mind-racing extrovert to pause, reflect and find grounding both on and off the mat.

Emilie completed her 200 hour Hatha Teacher Training in July 2015 and has been teaching ever since. She originally enrolled for teacher training as a way of deepening her own practice, but the minute she sat in her teacher's seat, she felt a true sense of belonging.

Emilie has a true passion for teaching and takes great joy watching her students grow and flourish. She is excited to be joining the Upward Dog team as her yoga journey has come full circle!
Emilie Tobin instructs the following:
After a long night's sleep, the body must move gently to allow for a gradual wakeup. Morning Hatha Flow begins by gently moving the body and awakening the breath with pranayama. Postures are practice in a sequence to allow stretching and aligning the body. In this class you will find balance by increasing strength and flexibility while moving mindfully with the breath. A morning practice is the best way to start your day!




Hatha Flow: a class that encourages movement from one posture to another in a continuous sequence linked together by the breath. The sequencing includes an eclectic mix of standing, balancing and floor poses designed to help improve flexibility, strength and stamina, while also providing the opportunity to cultivate a quiet mind. Modifications are provided for postures to make this class accessible to all levels.