Tatiana Eremina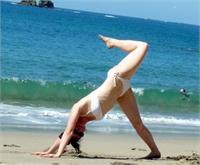 Tatiana started her yoga journey a couple of decades ago. It was just a new form of fitness at first but eventually it turned into a real passion and became her way of life.
Tatiana has been teaching fitness for more than 10 years, doing personal and group training. In 2015 she completed her Yoga Teacher Training with Megan Campbell at Sacred Movement School and has been teaching yoga ever since.
Tatiana had been teaching at retirement homes, corporations and at home but in July 2016 she joined Upward Dog Yoga Center team and found her new family here.
Tatiana is the current owner of the Upward Dog Yoga Centre
Tatiana Eremina is currently not instructing any classes.