Sadie Webster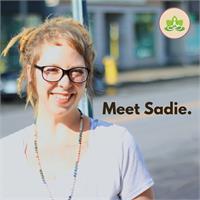 Sadie's roots are in dance and it was her love of movement that sparked her curiosity about yoga. Within a year of beginning her yoga practice she had graduated from her first teacher training and began teaching. As a Queen Size lady (the term plus-size is so drab!) she had had experienced some adversity in the dance world and was prepared to face the same in the yoga community. Being truly of the belief that everyBODY should have equal access and opportunity to practice yoga in a safe and nurturing environment she was disappointed to discover that bigger bodies were simply not present in many classes and studios. She was inspired to change this reality and began to teach her signature Voluptuous Vinyasa™ classes. With over 700 hours of training and nearly a decade of experience practicing yoga in a bigger body, Sadie is on a mission to super-size yoga!
Sadie Webster instructs the following:
This class that encourages movement from one posture to another in a continuous sequence linked together by the breath. The sequencing includes an eclectic mix of standing, balancing and floor poses designed to help improve flexibility, strength and stamina, while also providing the opportunity to cultivate a quiet mind. Modifications are provided for postures to make this class accessible to all levels.




Classes offer new moms and babies 6 weeks to 8 months (pre-crawling) the opportunity to bond, and for moms to restore the body after birth. This is the perfect class for moms who want to exercise soon after childbirth but realize that they should do so with care. Postures are done in conjunction with the babies or with babies near mom. Yogic mantras help soothe the babies and are a connective thread from prenatal classes. The time to resume or start a yoga practice after birth varies, so it is important to listen to your body and know what is right for you.




Yin yoga is a perfect complement to the more yang (active) styles of yoga. In yin yoga poses are held for 3 to 5 minutes with the muscles relaxed, which allows the body to open up and release. Yin yoga is about accepting the body as it is and not striving to change it! The increased time in the poses allows us to connect with the body and our breath. This is an all levels class and most of the poses are done on the floor. The use of props is encouraged in this class to ensure comfort. Yin targets the first 3 chakras and is thus a very grounding practice




Classes adapt poses to the stage of pregnancy and select poses to be emotionally grounding and soothing for the legs and lower back. Breathing techniques and sounds help moms to connect with the baby and stay balanced and focused throughout the pregnancy and birth.




Yoga for Curvy Bodies is a slow flow with a focus on creative prop use to modify poses to better suit bigger bodies. The class moves at a slower pace to allow plenty of time for transitions and prop set up between postures.